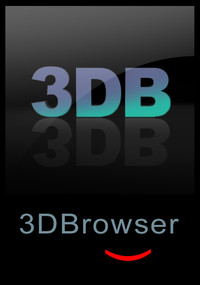 Feature Comparison Between Versions
You will find below a table comparing the features of different versions.
Features

Visualization

3DBrowser Light Edition
3DBrowser Image Edition
3DBrowser for 3D Users
Main window
Display thumbnails for all recognized files stored in local, network or CD-Rom folders.
Display ZIP files content and preview all recognized files.
Display the content of a multi-folders selection.
Automatic rotation for images shoot with a digital camera.
Display modes: list / small icons / thumbnails (with zoom in/out feature).
Customizable help tooltips for displaying the information you want about your files.
Automatic update when files are modified outside 3DBrowser.
Custom display mode, which allows displaying file preview with the most useful information about your files.
Group display mode allows to logically group files together
Visualization
Images, video and GIF animated viewer and editor.
OpenGL viewer including several rendering mode.
Audio files playing feature and visualization of the MP3 information (author, title, length...).
Various ways to open your files and edit them in another application (fast application toolbar, drag & drop, application selector...).
Fade in-out slides show (displays your images and 3D scenes with the information you need)
Advanced file association to 3DBrowser
Organizing
Generalities
Common file features (copy, rename, move delete, drag & drop files, new folder...).
Folders browsing history.
Fast folder access window.
Combined files operations (copy/delete/rename) for associated files (images and audio files which share the same name).
Files attributes edition (read only/hidden) and possibility to update the created and modification date.
Many filter modes.
Custom filter edition to display only the files you need.
Sort thumbnails in the way you want, using drag and drop.
Specific information associated with files
Display advanced information about file properties (image width / height, EXIF information issued from digital camera, faces and points number, materials for 3D scenes).
Edit information (author, notes, title...) and associate them to any files whatever their types.
Visualize information associated to files
Edit keywords and associate them to any files whatever their types.
Visualize keywords associated to files.
Edit MP3 files information.
Visualize MP3 files information.
Automatic save of the keywords and essential information for files located on a NTFS partition.
Export information to a database.
Import information from a database.
Search for files
Search for files feature. The results are displayed as if it was any other files directory.
Advanced search feature using criteria (search for a keyword, files properties, EXIF properties, edited information...)
Save search results.
Information and keywords edition for files for search results files.
Search for files on a network enterprise.
Batch process a search results.
Album creation
Album creation. An album contains references to files located in different directories.
Album visualization.
Information and keywords edition for album files.
Batch processing for files for album files.
Others
Displays recursive directory size in the folder tree (a useful tool for cleaning your hard disks).
Edit favorites and get a fast access to most used folders.
Create thumbnails and catalogues for files, which are on removable support (CD-Rom, Zip...). Once created, you can consult them offline: no need to insert the removable support.
Windows XP/2000/NT only: Create a catalogue repository, which allow to document files and search them on a network enterprise configuration
Viewing & editing images with the 2D viewer
Display image channels (alpha) and open several images in the same viewer
Play video in full screen mode
Play animated GIF
Raw image format support (Canon, Nikon, Sony, Casio, Minolta, Pentax, Leica, Fuji...)
Thumbnails update using the current image channel or video frame

Slides show, view next and previous image.

Rename / Delete displayed file features.
Copy / paste and image to / from clipboard
File format conversion.
Extract images from video
Image manipulation features: crop, automatic crop, resize, rotate, "Rotate to vertical", "Rotate to horizontal", flip...
Color adjustment (contrast, gamma, Hue/Saturation/Luminosity...).
Wide range of filters: Gaussian blur, unsharp mask, despeckle...
JPEG Lossless features to rotate flip or crop a JPEG image.
JPEG compression ratio estimation for an optimal used of the jpeg format.
Keep profiles during data processing (icc, iptc, exif information) for JPEG, TIFF, PSD... files formats.
Print feature.
Viewing & editing images with the 3D viewer
Open several scenes in the same viewer
View textures
View vertex colors
View 3D patches
Optimize your scenes by reducing the polygon number using Polygon Cruncher (additional license)
Batch object optimization (additional license)
Convert polygonal objects to 3D patches
Advanced 3D files format conversion
Printing feature.
Save an image or an animation from the 3D scene.
Visualization tools (Rotate, zoom, auto zoom, pan…)
Lighting control.
Materials & objects information and edition dialogs.
Slides show, view next and previous image
Rename / Delete displayed file features.
Thumbnails update using the current point of view
Settings for the default point of view used for thumbnails computation
Advanced features
Twain (scanner) and Wia (digital camera) importation
Export a slides show, including texts and transitions, as an executable file *.exe (Windows NT/2000/XP only).
Use an image as desktop wallpaper
JPEG Lossless features which allows rotating or flipping a set of JPEG files, keeping images quality.
Rename and number a set of files using a custom name pattern.
HTML export from your images, 3D scenes (for 3D Users version only) or files. Predefined HTML templates library and possibility to edit your own HTML templates.
Advanced printing feature, which allows printing directory content. You have a total control on the size of printed images, background colors, background images and borders. You can also edit a formatted text (RTF) with access to file information using information tags.
Group by page display mode simplifies printing larges catalogues.
Convert several files to a given format in a single step (images & 3D formats). Images can also be resized at convenience.
Batch command processing allows converting or modifying automatically your files. Most of 3DBrowser commands are accessible through the batch command dialog.
Screen capture tools allows to record movie or to save still images (on the fly).
Join images to an email and resize and convert them automatically.
Create AVI from a set of images. Concatenate AVI files.
Create animated GIF from a set of images.
Split/Merge file feature.
Uppercase/Lowercase file name feature.