X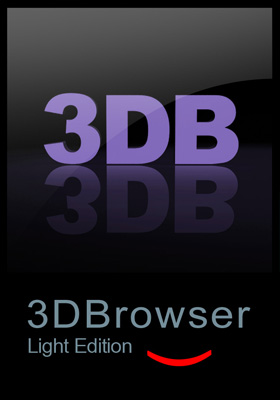 3DBrowser Light Edition
Overview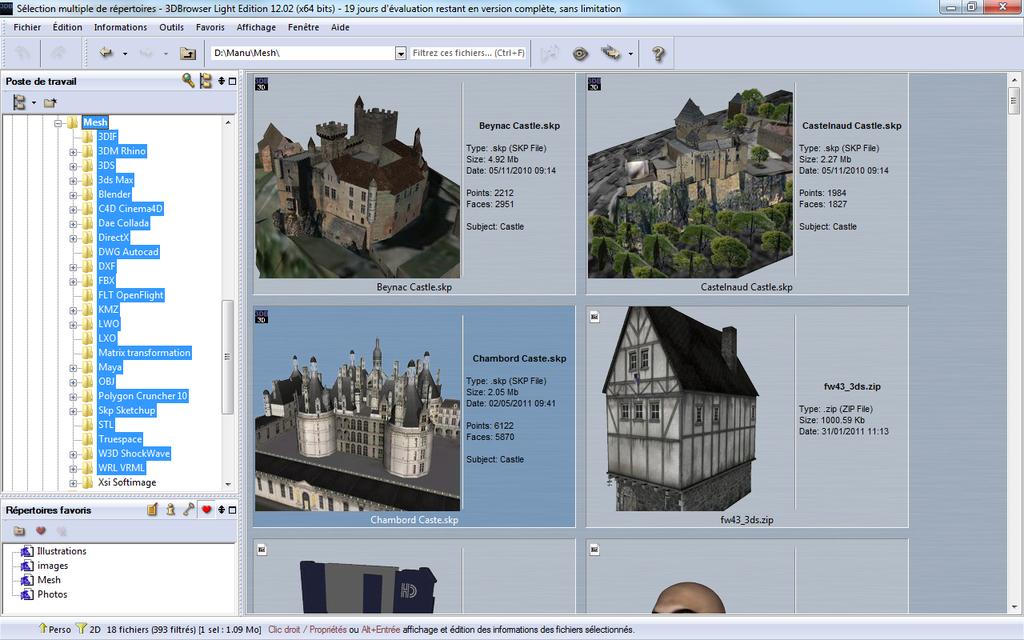 3DBrowser Light Edition is a browser for your 3D, photo, video and audio files. This is a fast and powerful media manager to browse thousands of files thanks to its thumbnails window. You'll find user friendly features to display your 3D and images files.
3DBrowser recognizes more than 60 images and videos files format, many 3D files format and most of the audio files format:
Fbx (Autodesk FBX)
C4d (Cinema 4D)
3ds (3D Studio)
Obj (Wavefront)
Max (3ds Max through a provided plugin)
Xsi (Softimage through Crosswalk)
Skp (Sketchup)
Dae (Collada)
Mb, Ma (Maya, through a provided plugin)
Stl (Stereolithography)
Lwo, Lws (Lightwave)
Lxo (Modo)
X (Direct X)
Dxf, Wrl, Ply...
Jpeg, png, gif, psd, tiff, bmp (more than 60 popular image formats)
Digital camera raw formats
Mp3, wav (audio files)
Browse your folders in a wink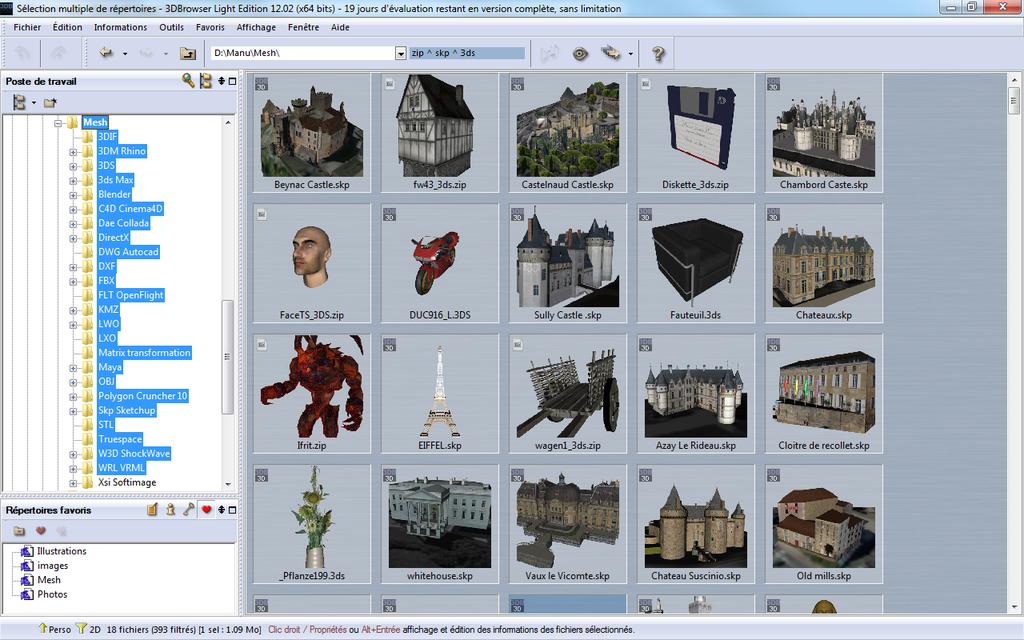 Display in the same window the files located in several folders: this is very useful to take a glance at your whole scenes or photos library.
Browse scenes stored in your ZIP archives without decompressing them.
Display your files the way you want:
Small thumbnails to browse thousand of files in a split second.
A customizable display mode to view the information you need such the width and height of your images, the number of faces of your 3D files or the title and the length of your MP3 files.
For your comfort and a better navigation, 3DBrowser fits all your needs by:
Sorting the files at your convenience (name, picture-taking date, user-defined)
Filtering the files as you want (I.e. display only images or 3D files or *.jpg and *.html files starting by A)
Grouping files together using logical criteria.
3DBrowser rotates automatically your digital camera pictures and also handles renaming and deleting files that share a given name but have different extensions (i.e. example.jpg image and example.wav sound).
3DBrowser also handles renaming and deleting files that share a given name but have different extensions (i.e. example.jpg image and example.wav sound).
View your photos and 3D files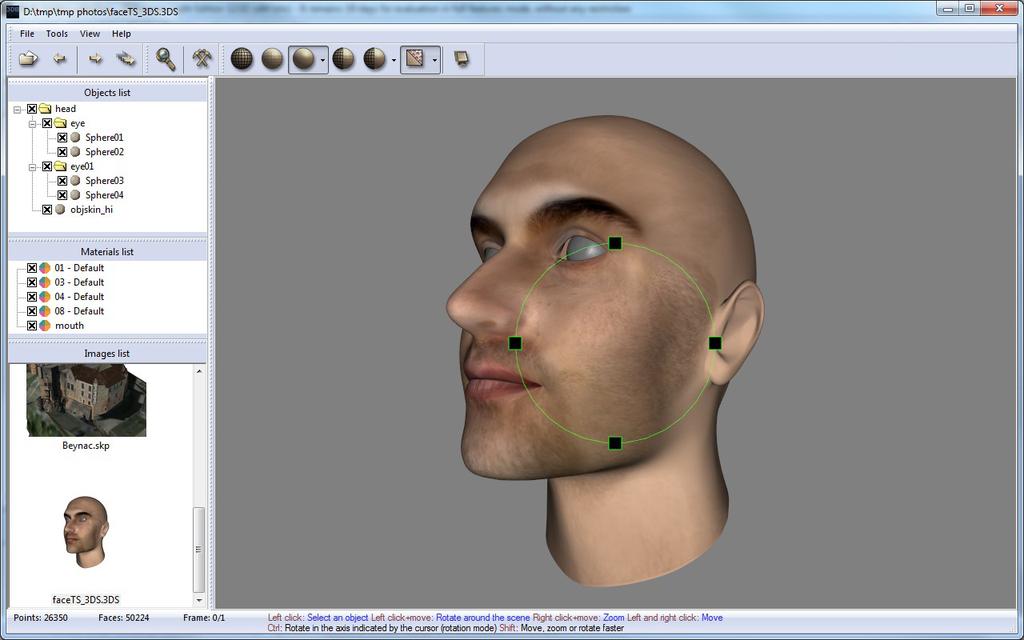 Open your 3D files in the built-in OpenGL viewer.
You display the scene using one of the many rendering mode and select the best point of view for creating the scene thumbnail. You clearly see the scene hierarchy and the materials. You'll find the tools you'll need every day:
Textures or vertex colors display
Mesh subdivision display (patch)
Slides show
Edit material and display a complete report about objects
Open your images or your videos in the built-in viewer.
You clearly view the layers of your images (I.e. alpha channel) and can use one of the many available tools:
Crop & resize
Image conversion from/to many file formats
Horizontal or vertical image's axis alignment
Colors adjustment
Image bending
Filters
Slides show
You can also play your videos in full screen and extract images from your favorites movies.
3DBrowser also plays your audio files and displays MP3 tags (album, track, length...).
Organize your files efficiently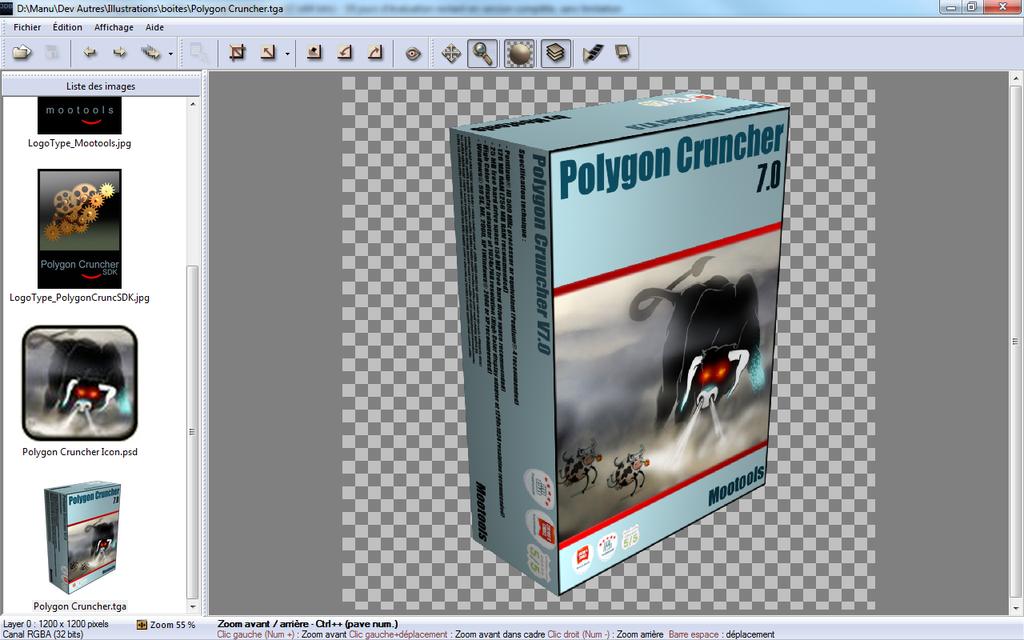 To organize your files you must first know them! 3DBrowser gathers information contained in your files:
EXIF tags for digital photos (giving a precious information on the picture-taking condition)
Faces and points number, materials for 3D files
MP3 tags for audio files.
These information can then be exported back to the file metadata (EXIF, IPTC, XMP).
You also use them to customize the main window and select the information you want to display.
This information can be displayed in a slides show.
Export Slide Shows
You'll enjoy to share these precious memories with your friends using one of the following tools:
A slides show:
Project your favorites photos or 3D meshes in full screen. Slides appear smoothly using fade in-out transition. Each slides might be annotated at your choice with a title, a description or file's information.
An executable slides show:
Create a compact and independent application, which contains your slides show. Associate sound to slides, add texts and present your documents in a really pleasant way.
And so much more…
3DBrowser Light Edition offers a wide range of advanced features, increasing the choice every day thanks to the regular updates. Rename a set of files, replace your desktop background image: there is no limit. No other software gives you so much daily services!